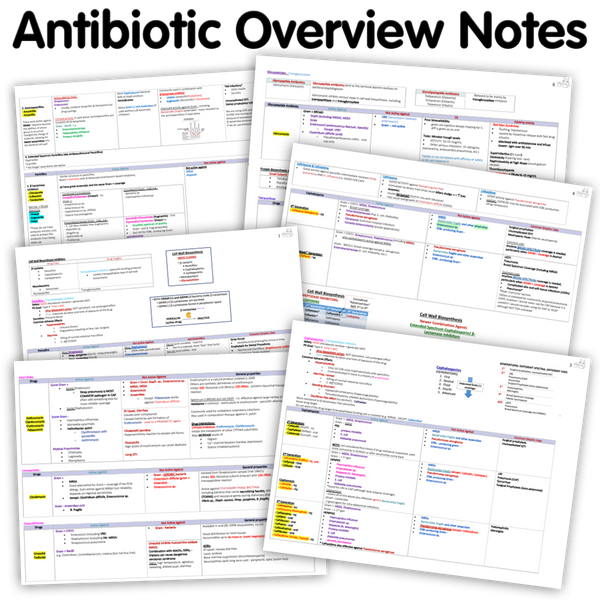 Antibiotics Overview Notes
Regular price
$7.00
Sale price
$10.00
This is a digital download in PDF form

This document contains 10 PDF pages of notes about:

Antibiotic drug classes such as cell wall inhibitors (β lactams, monolactams, glycopeptides), protein inhibitors (tetracycline, aminoglycosides, macrolides, lincosamide), DNA synthesis inhibitors (flouroquinolones), and many more!
Medications in each respective drug classes and their mechanism of action
Antibiotic adverse effects 
Antibiotic coverages (which drug is active against what type of bug)
Common antibiotics that are used in different infections
Antibiotic pharmacokinetics and unique properties
These materials have been created to be used as a supplement to your studies. They will not replace your lectures, textbooks, medical guidelines or other primary/secondary/tertiary resources. 

Although extensive research and time were put into making these notes, they are NOT medical advice. You are responsible to review the accuracy of the material. By purchasing this, you agree to these terms. Please visit our "Terms and Conditions" and contact support@cottonberi.com if you have any questions.